Torrent Method
First, if you haven't done so already, download the torrent (updated 12-24-2019) for the setup installation files. You will need a torrent client to download the torrent. We recommend Deluge.
The following are bad clients and you should feel bad for using them (and will result in you getting the game much slower): Frostwire, Azureus, FDM, MediaGet2, BitLord, Torch, and BitComet.
For this guide, we'll be using Deluge.
Once you've installed a torrent client, you will then need to open the torrent inside of the torrent client itself. For Deluge, we can add the torrent by dragging and dropping the torrent into Deluge itself. For other clients, usually double-clicking the torrent file will do this, but if it does not, then you could click on File, then selecting "open/add torrent" in most torrent clients to do the same.
Note: The torrent downloads the setup installation files to install the game and not the actual game files!
Note: Ensure that you have at least 140GB of space free, as both PSO2 and the setup files are over 80GB each.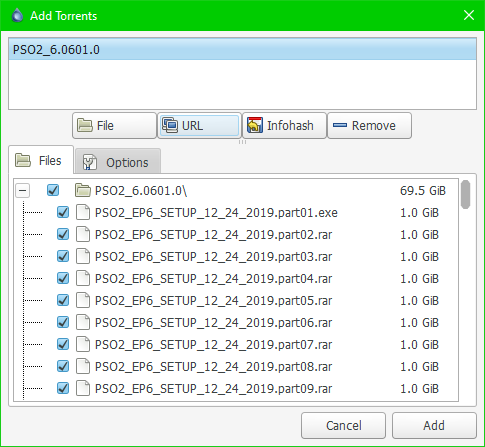 ---
Installing the Game
Once the torrent has reached 100%, it will start to seed. This means it is done and now helping others download. It is now time to open it and run the installer.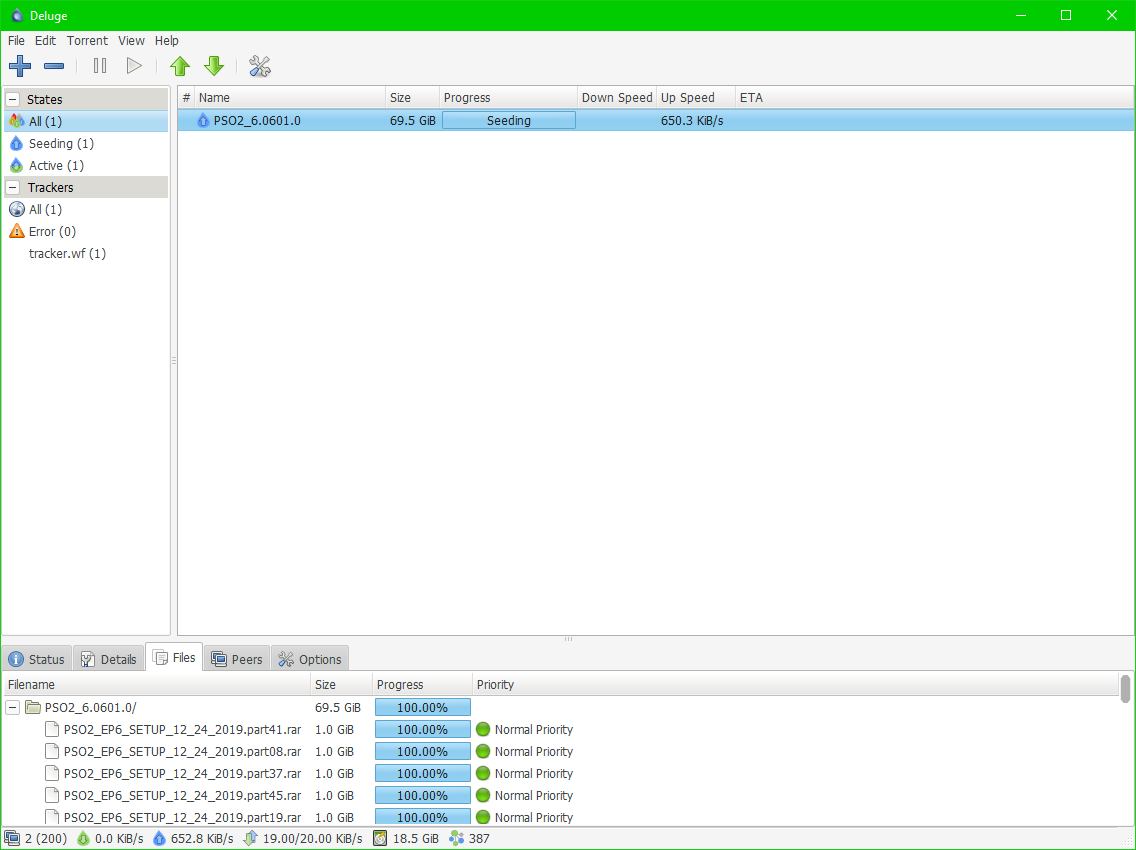 In Deluge, right-click the torrent named "PSO2_6.0601.0" and click on "Open Folder". Other clients can allow you to open the torrent's download location by double-clicking. Inside, you'll see a file named "PSO2_EP6_SETUP_12_24_2019.part01.exe" followed by a bunch of other rar files. You will want to open the exe file as administrator.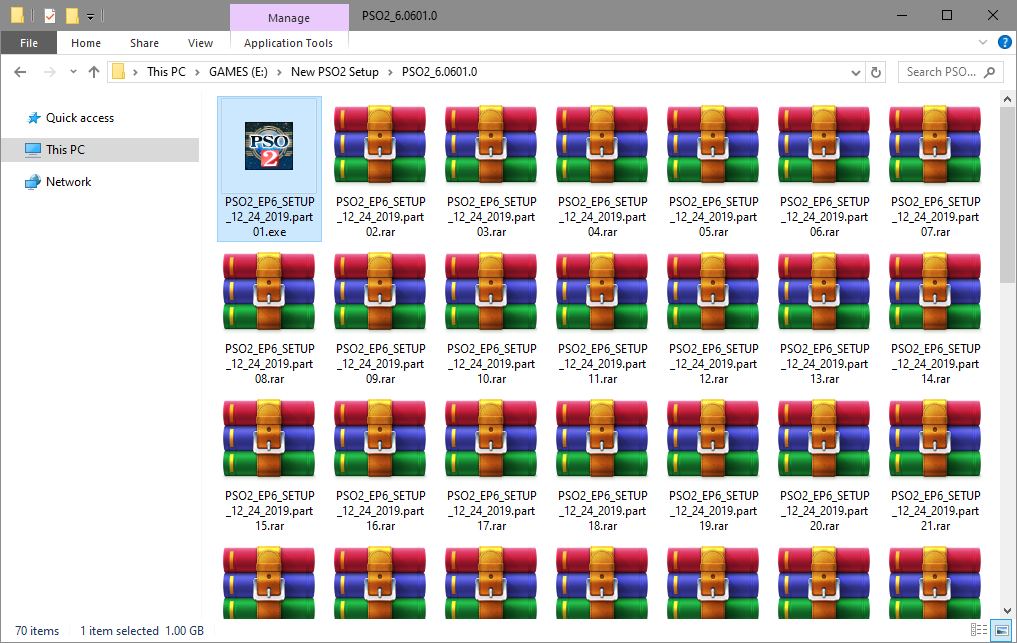 The setup may take a while to load, please do not panic!
Upon running the installation setup, please read the agreement terms and click on "Accept" to proceed.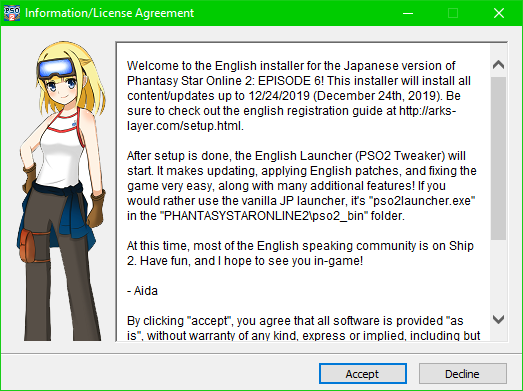 Clicking "Decline" will close the setup.
You will now proceed to the installation section. By clicking on "Browse", you can choose where you wish to install the game. Once you've selected where you want to install to, click on "Install".
DO NOT INSTALL PSO2 IN YOUR DOCUMENTS FOLDER, THE DOWNLOADS FOLDER OR ON THE DESKTOP. WINDOWS 7 AND ABOVE RESTRICT PROGRAM PERMISSIONS IN THOSE LOCATIONS AND CAN CAUSE ISSUES WHEN ATTEMPTING TO START THE GAME.
THE DRIVE SELECTED MUST BE FORMATTED TO EITHER EXFAT OR NTFS. YOU CANNOT INSTALL THIS ON TO A DRIVE THAT IS FORMATTED TO FAT32, DUE TO FILE SIZE RESTRICTIONS.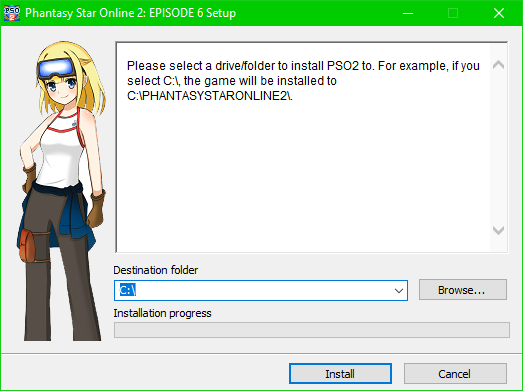 This will now proceed to install the game. If you need to pause the installation, you can click on "Pause". This will halt the installation temporarily, but you cannot resume where you left off if you close the setup. Click on "Continue" to resume the setup, if you have paused it.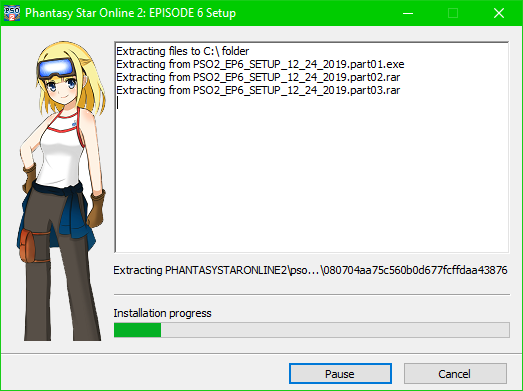 Once the installation has finished, the PSO2 Tweaker will launch.
This concludes this section of the guide. Click
here
to skip to the Tweaker plugin setup section of this guide.